INDUSTRIAL HYDRAULICS
We cater to Hydraulic Systems requirement for the below industries
Steel industries
Packaging industries
Plastic industries
Asphalt and Ready mix concrete companies
Pipes manufacturing companies
Saline Water Treatment Plants
Automotive Industries
Power and Water Industries
Food and Beverage Industries
Cement Factories
MOBILE AND CONSTRUCTION
We cater to Hydraulics & Lubrication systems requirement for
Mobile cranes
Construction machinery like Excavators, wheel loaders, graders, shovels, dumpers etc.
Geo physical survey rigs
Road cleaning equipments
Skip loaders and trash compactors
Piling Equipments
Ramps for low bed trailers
Concrete pumps and transit mixers
Heavy transport equipment
MARINE INDUSTRY
We undertake trouble-shooting, survey and inspection of remote cargo valve control systems and all deck machinery like anchor handling winches, mooring winches, cargo cranes, hose handling cranes, provision cranes, davits and other systems like steering gears, ro-ro equipment, hatch cover hydraulics etc. We also specialize in hydraulics for dredgers, Marine loading arms, pipe laying and cable laying barges, and any other special service vessels like tug boats, seismic survey vessels etc.
We undertake anchorage or voyage repairs and have teams of service engineers and hydraulic technicians to attend all above equipment on board.
OIL AND GAS
We specialize in hydraulics for onshore/offshore rigs and all rig equipment. We overhaul and also manufacture hydraulics for skidding systems, jacking systems, mast raise systems, top drives, cementing units, snubbing units, BOP systems, coil tubing units, power tongs, batch mixers, wire line units etc.
We undertake turnkey contracts on piping installation, chemical cleaning and flushing, inter connecting for all the above systems. We can also offer start-up and commissioning of all rig hydraulic equipment.
DESIGN AND MANUFACTURE OF HYDRAULIC POWER PACKS
With over a decade's experience in the design and build of hydraulic power packs, we are able to design and manufacture hydraulic power packs that will suit your specific application perfectly. We specialise in developing hydraulic systems from enquiry through to final commissioning, using the most reliable components to give you a system that is built to last. All systems are fully tested and documented prior to delivery and issued with a warranty certificate.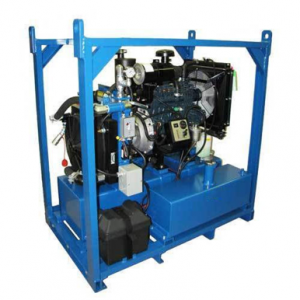 Our Hydraulic power pack features include:
Single/ three phase AC electric motors, DC motors, diesel or petrol engines driven units
Pressures up to 700 Bar (10,000psi)
Flow up to 2000 litres
Fixed or variable delivery option
Pump options -piston, vane or gear type
Open loop and closed loop circuits.
All valve configurations and operating modes supplied.
Pressure and flow control valves
Oil Cooling option available – Air blast cooler or Water Cooler.
Filtration – Return line filter, pressure line filter, air breather, suction strainer
Explosion proof hydraulic power units for use in hazardous locations.
Tank top mounted or skid mounted option
Special accessories like temperature sensor, oil level switch, oil heater
Throttle cylinder, mechanical or pneumatic starter, air cut off valve for engine driven units.
Special Power packs with Stainless steel parts to suit marine environment.
Can be supplied with oil contamination monitor.
Good availability of spares and backup
We can meet most special requirements – please ask
DESIGN AND MANUFACTURE OF HYDRAULIC CYLINDERS
We design, construct and manufacture high-quality hydraulic cylinders and have a lot of experience with many specialised applications. We have the professional engineering that can address every demand by utilising advanced and proven design techniques. Our integrated and efficient design division filed with modern soqware of CAD and structure analysis ensures the quality of the product we produce. Our knowhow data about materials, calculations and applications helps us offer the best product to our customers.
The type of cylinders we manufacture are
Single Acting Hydraulic Cylinder
Double Acting Hydraulic Cylinder
Multistage/Telescopic Hydraulic Cylinder
Trunnion Type Hydraulic Cylinder
Tie-Rod Hydraulic Cylinder
We can fabricate cylinders for almost every application in the Offshore, Onshore, Marine, Steel, Mobile and construction industries
REPAIR AND TESTING OF HYDRAULIC CYLINDERS, PUMPS ,MOTORS , VALVES AND OTHER HYDRAULIC COMPONENTS
Repairing hydraulic cylinders involves more than just replacing broken parts. Our expert engineers analyse the root cause of the damage after inspecting the damaged components and recommend the appropriate repair to be carried out.
We undertake repair of hydraulic pumps, motors & valves. The repair includes piston, gear, vane, generator pumps & motors. Valves include directional control valves (manual & solenoid), steering valves & brake accumulator valves. Our field service technicians provide onsite troubleshooting & assessments. Our extensive network of international suppliers & in house inventory gives us direct access to spares of all make pumps, motors & valves.
Repair, Upgrade & Maintenance
Overhauling & testing of Hydraulic cylinders, pumps, motors and control valves.
Overhauling & testing of all Hydraulic equipment, upgrade & refurbishment of power packs.
MACHINING AND FABRICATION
All kinds of light and medium structural fabrication and machining jobs.
Manufacturing of Skids, tanks & cable drums
Any type of Heavy machining on conventional machines.
All kinds of CNC machining in particular steel manifolds or any other material like brass, bronze, plastic etc.
1. FABRICATION – STRUCTURAL DESIGN AND ENGINEERING
Our prime activity involves :
Fabrication of various types and shapes in Mild steel, Galvanised Iron, Aluminium & Stainless Steel Materials.
Fabrication of Skip for Trash collection
Steel structure for Mezzanine Floor, Staircase, Hand Rails, Fence, Gates, Ladders etc.
Fabrication of Aluminium brackets, Stainless Steel clamps/brackets, Hot dip galvanized Winch Frames, Stainless Steel /
Mild steel Oil tanks, Fabrication of Valve test benches.
HOSE AND FITTINGS
We maintain stock of different types of hoses and fittings for virtually any application. We can supply crimped of hoses up to 6" diameters. We also maintain stocks of steel tubes, schedule pipes, sockets, SAE flanges, tube clamps, fire sleeves, stainless steel tubes and fittings.
SITE SERVICES
Trouble shooting, Surveys/inspection of all hydraulic equipment.
Piping/tubing, flushing & pressure testing of Hydraulic lines.
Start up & commissioning of marine, offshore, industrial & mobile hydraulic equipment.